Web Clinic: Effective Practice Planning for Youth Football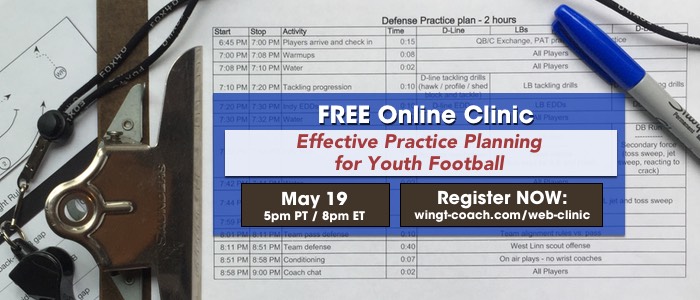 I'm running another free web clinic on Tuesday, May 19, at 8pm Eastern / 5pm Pacific. The topic is "Effective Practice Planning for Youth Football".
I will cover drills and structure for running a no-contact spring or summer camp
You'll learn how to incorporate conditioning into your practices using football drills and moves
We will review sample practice plans that are the result of 10 years of experience coaching youth football
I'll discuss how to budget your scarce practice time, including special teams
All attendees will get a FREE downloadable set of sample practice plans, including access to a Google spreadsheet that you can customize for your own plans.
This is not a Wing-T specific clinic, so pass this on to any youth coaches you know that might benefit from the discussion.