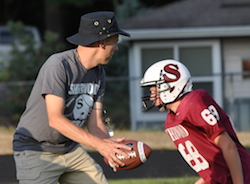 Want to contact Chris? Just send him an email at [email protected].
Chris Brooks has over 10 years of experience coaching youth football at all age levels, including 7 years coaching 8th grade football (ages 12-14). He coached in Sherwood and Portland, Oregon and his teams played in the Tualatin Valley Youth Football League. In eight years of coaching playoff-eligible teams, his teams made the playoffs seven times, championship games five times, and won championships twice. Chris served primarily as offensive line coach and defensive coordinator.
He has two sons, Jacob and Matthew, who both played high school football in Sherwood and earned varsity letters on Oregon high school state championship teams.
Chris has diverse hobbies including photography, boardgames, backpacking, and orienteering. He is happiest when on a long run with co-coaches Jack and Brian, playing games with his sons, or traveling with his wife Julie.
His "day job" for many years was working in high-tech as a software engineer and software executive for the US Air Force, Micron Technology, Corillian, and WebMD. For more information you can visit his LinkedIn profile.