Practice Organization with Chuck Johnson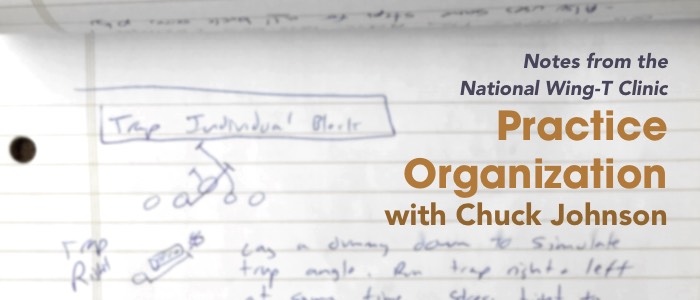 Chuck Johnson has been the head coach at Ridgewood HS in NJ for 37 years. He ran an outstanding clinic on practice organization. Chuck is "old school" and doesn't use computers much, still preferring to hand write his practice plans each day.
Chuck asserts that football is comprised of a diversity of positions, assignments, and skills; therefore, practice must be organized accordingly. He stresses that on every single rep a coach says something to one of the kids. It can be positive feedback, a compliment, a correction. Say it quick, get in and get out. His approach is to practice with game speed (scout team, team offense, etc.). They organize practices around a small set of plays or objectives for the day. For example, on Monday they might have the offensive line focus on run blocking, on Tuesday they focus on pass protection.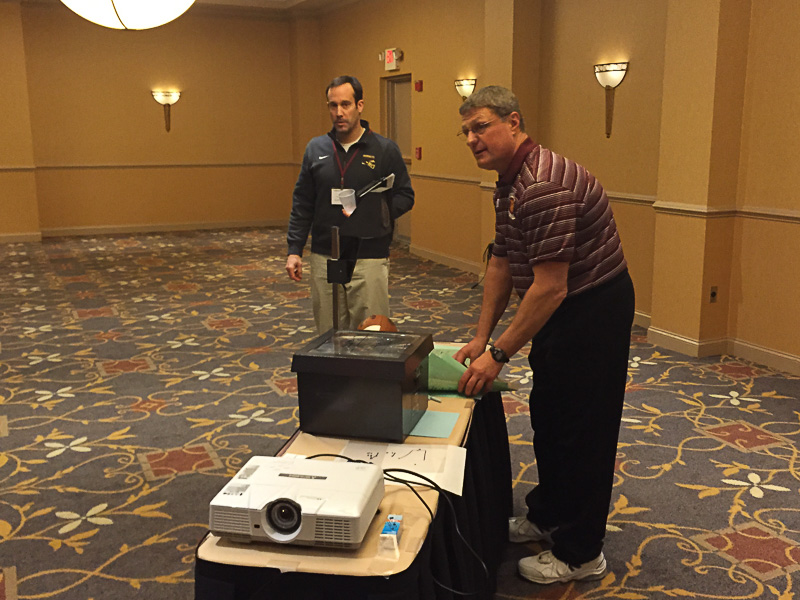 General Practice Approach
Early in the week they will do more individual and less team work. Later in the week, less individual work and more team work.
Single Most Important Thing You Can Do As a Coach
"Coaching" is putting each player in his own game situation as many times as possible, as many different ways as possible.

- Bud Wilkinson
So many skills and team situations to practice – time is very limited
Many different positions, each with his own skill set
Number One Yardstick by Which Coaches Are Evaluated
Organized – All coaches coaching, players playing
Intense – Must practice at "game speed," must practice TEAM situations at "game speed."
Applicable – Does what you are doing in practice get done in the game? Run-pass percent in practice should equal the run-pass percentage in the game. Do the players understand the relevancy and carryover of everything you do in practice?
Valuable – You only have time for the most important things.
Provide for Repetition – Someone doesn't improve a skill by doing it once. They must take "batting practice". Skills vary tremendously by position.
Makes Practice Valuable - Makes Game Attractive
Pre-high school athletes rarely practice. Players must believe in the necessity of practice – do your players?
Many of the old drills and ways are worthless! Don't be afraid to change the paradigm. Examples: sprints, calisthenics, scrimmaging, and extraneous drills.
Practice Structure
Individual Period – with individual position coaches
On offense, they divide up as:
Running backs
Offensive linemen
Quarterbacks
Wide receivers
On defense,
Defensive linemen
Middle linebackers
Outside linebackers
Defensive backs
They allow for maximum repetitions in minimum time. All drills can be very position specific. Start with stance, footwork, individual blocking skills, basic movement.
Group Period – focus on "parts" of game situations
Defense examples:
Interior Run – Force unit versus opponent's interior run plays
Perimeter Run – Perimeter people versus opponent's perimeter plays
Pass Skeleton – Linebackers and secondary versus pass
Offense examples:
Assignment Period – Offensive linemen versus specific defensive looks
Offensive Pass Skeleton – QB and receivers working pass routes versus defense and versus air
Blitz pickup – Pass protection versus blitz
Team Period – all parts together
Script all offensive and defensive play calling
Coaches must coach on every play: compliment or criticize
Note that this is generally the least productive period technique-wise
Conditioning is done here on the run, so establish a practice tempo
They start team offense with plays vs. bags, running each play twice with 2s going first then 1s.
The close out team offense with "Perfect Plays" which are run air, with full shifts, motion, no huddle, etc. This is also where they do their 2 minute drill.
Other Notes on Practice
They try to keep the QBs out of the kicking game so that they can get more reps (footwork, passing) during special teams practice
They install their kicking game in the 1st practice - that's all they do on day 1, with just helmets on.
They start each practice with defense, then (if necessary) do special teams in the middle, and finish with offense. They want the team to be physically worn out when they get into offense.
Their Saturday routine is as follows:
8am - 10am – coaches are reviewing their film from Friday night together
10am - 11:30am – heavy weight lifting; this is when they do their hardest sets
11:30am - 1pm – Watch film together, as a team. He likes to have the whole team together as it helps promote accountability across the team.
How Chuck Does Motion and Cadence (and the CLAP drill)
This was one of the more interesting parts of Chuck's talk. Chuck believes that the more you can take off the shoulders of the QB the better given how much responsibility he already has. Therefore a while ago he decided to make the backs responsible for initiating and timing their own motion. There are no foot or hand signals to start motion.
Their cadence has two parts:
Arrhythmical – color number, color number, Ready, Set (e.g., "Red 5, Red 5, Ready, Set"). The color-number combo might be an audible but is usually meaningless
Rhythmical – After the first part, they use a steady "Go…Go…Go" cadence according to the snap count.
So if the count is on two, the whole cadence might be "Red 5, Red 5, Ready, Set, Go!…Go!". The backs have to know when to start their motion based on the rhythmic part of the cadence. They also have a "freeze" call which allows them to start their motion but have no play / snap in effect, followed by a check-with-me.
The Clap Drill
How do they practice this and get players used to the cadence? It starts with the clap drill. At the end of opening warmups, which takes about 6 minutes, all players sprint to coaches where the defensive coordinator does five "up/down/hit-it" calls where they drop down, get up, and sprint to a ball. This is meant to get their attention and get them into the right mindset.
The players then all come down on their left knee with the quarterbacks in front facing them. Starting with QB1, each QB announces a snap count then proceeds to call a cadence. On "ready", every player's arms and hands go up in front like he's getting ready to clap. Each player then claps on the proper cadence count GO. It should sound like a single clap.
Each successive backup QB then follows on, with his job being to sound like and have the same cadence rhythm as QB1 – this is partly how they can get consistent timing with their motion.
If the coaches feel that the team is not engaged, is lackadaisical, they will return to the "up/down/hit-it" to regain focus.
Obviously they spend a lot of time in their group work with QBs and backs working on motion timing.