Web Clinic: Fine Tune your Wing-T Backfield Footwork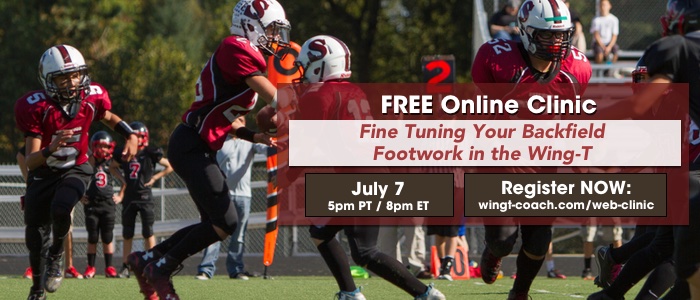 I'm running another free web clinic on July 7 at 5pm Pacific / 8pm Eastern and will focus on backfield footwork for the core Wing-T series. We will at least cover Buck Series, Belly Series, ISO, and Jet. Getting good mesh in the backfield (this includes pulling linemen) is so important and can make the difference between a successful team and a failing team.
You'll learn how to fine tune the backfield mesh for the Wing-T Buck, Belly, and ISO series
I'll share detailed footwork examples along with drills you can use right away
You will also learn how to incorporate linemen into these mesh drills, such as the pulling guards on Buck Sweep
All attendees will get FREE drills for printing out and sharing with the rest of your coaching staff.
Sign up here for the web clinic and spread the word to your coaching buddies.