Technology Tools for Coaching Youth Football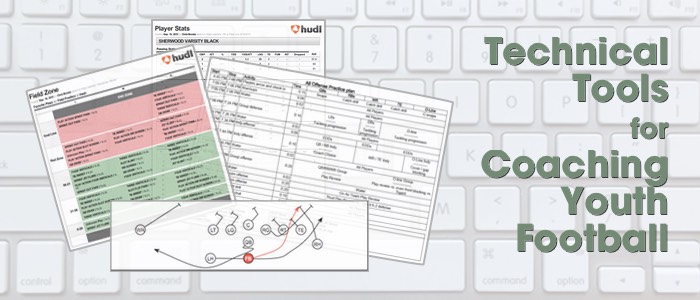 Technology has changed the sport of football, even at the youth level. While the biggest change I've seen in the last 10 years is with video (we used to call this "film"), the emergence of cloud-based computing, social networking, and ubiquitous text messaging is also transforming how we plan and communicate as coaches. There's no doubt that the game has not fundamentally changed but I believe that appropriate application of technology can help in several dimensions:
You can gain more objective insight into your team and your opponents rather than relying solely on intuition and hunch
You and your coaching staff can be more efficient with your time and be better prepared for practices
You can "flip the classroom" and allow your players to be more engaged in their own improvement
I few words of caution here. First, I've lived in the Mac world for the past eight years so that's what I know. If I know of a reasonable Windows substitute for a tool I'll mention it. Second, I'm literally a computer nerd. Meaning I have undergraduate and graduate degrees in computer science / computer engineering and have either written software or lead commercial software teams for over 25 years. To that end, I'm reserving a final section geared towards nerds like me who are into automation. Fear not, though - the first section is very much geared toward the regular user.
The base tools I rely on
Hudl – If you coach football at any level, you probably know about Hudl. I first starting paying for Hudl in 2011, but it wasn't until last season (2014) that I saw a critical mass of other 8th grade youth teams using it in the greater Portland area. Even without the film sharing and escrow features, Hudl is the best way to break down, organize, and share your film.

Before I had Hudl, if I wanted to give film feedback like you see in the above video I had to manually create a video with screenshots, annotation, etc. It would take 2–3 hours to assemble something like this. Hudl changed all that and more. If you take advantage of the film breakdown features, you can scout yourself as well as your opponents, track player stats, and at the end of the season look for key good and bad examples of certain plays.

If you buy up access to the playbook tools, you can build your own custom playbooks as well as quickly create scout offense plays for your defensive practice. In fact, the play editor with integrated video is the single best feature I've seen from Hudl in the past 2–3 years.

Your smartphone – Many of us are carrying around a computer, a camera, a video recorder, and an audio recorder that is more powerful than the strongest desktop computers from 15 years ago. You can use it to jot down notes during a coach meeting, capture important to-do reminders while out on the field (using voice capture), scan and upload hand-written notes, record practices using Hudl, and much more.

Skitch – Skitch is a screenshot tool that was acquired by Evernote a while back, but I've been using it since about 2008 I think. I think there's even a Windows version now. Not only does it make taking screenshots easy (I often use it to do a frame grab of a video), you can quickly annotate and draw on the image.

Google Sheets – Google Sheets is part of the Google Docs family of cloud-based productivity apps, and it is strong enough now to be a suitable replacement for Excel for most people. I've used Google Sheets exclusively for several years for practice planning and depth charts. I can quickly share documents with other coaches, and they can collaboratively edit.

OmniGraffle – This is my drawing tool of choice on the Mac. It is a "vector" based drawing tool so is great for drawing play diagrams where you need to connect lines, re-use templates (like defensive fronts), and easily add text. On Windows I think Visio is the most comparable option, though if you have PowerPoint you might have enough power right there to make good play diagrams. And like I mention above, consider adding on the premium Hudl playbook feature.

Gmail – You might be surprised that I mention an email tool, but I rely so heavily on Gmail's amazing search feature that I can't leave it out. I can quickly dig up discussions about particular plays, drills, and opponents. If you use Gmail, spend some time learning how to be a power searcher

Evernote – The ultimate packrat tool, Evernote allows you to tuck away documents, PDFs, images, and just about anything else. And make it all searchable and accessible on your mobile device. This is a great place to store all those PDFs of playbooks you've acquired over the years, scanned drills you learned over the years, etc. I also use a tool called Scanbot on my iPhone which quickly turns scanned images into a PDF and automatically sends it to Evernote.

Vimeo and YouTube – I've used Vimeo for a long time, mainly because it allowed me to easily password protect videos and for a long time YouTube didn't allow longer videos to be posted. These are great ways to distribute full game film to families that want to show more than just highlights to grandparents or perhaps parents that miss a game because of travel.

Laminator - Scotch Thermal Laminator 2 Roller System (this is an affiliate link, I'll get a small commission if you buy it), available for about $33 on Amazon. Just ask my wife - from August through November this device is used every week. At the very least I laminate our play callers depth charts before each game. I also use this for play sheets early in the season and for our wrist coaches. This is a steal and the laminating pouches aren't that expensive.

GroupMe – GroupMe is a group messaging system (native smart phones and SMS) that I have used for other volunteer activities but not football. I'm recommending this to our high school staff this year to do sub-group notifications (i.e., sending a message to just the linebackers).

iMovie / Final Cut Pro – These are the two Apple published movie creation programs that I've used to produce end-of-season highlight films for my teams. iMovie is the easiest to use but I've been doing a lot more film work lately (documentary-style) so I've moved up to the big-boy program Final Cut Pro.

DropBox – Cloud-based file storage. This is my safety net and part of my backup solution. It also allows me to move from my iPad to my Mac Mini to my wife's MacBook Air and have all of my files ready for me.
Only go here if you are a true nerd
Here there be dragons – if you want to go behind the curtain to see how I stay productive and automate some of the coaching activities, stay with me here.
---
There you have it. If you have any questions or would like me to dive deeper on any of these, leave a comment with details below.