Smoke and Mirrors Wing-T with Scott Meadows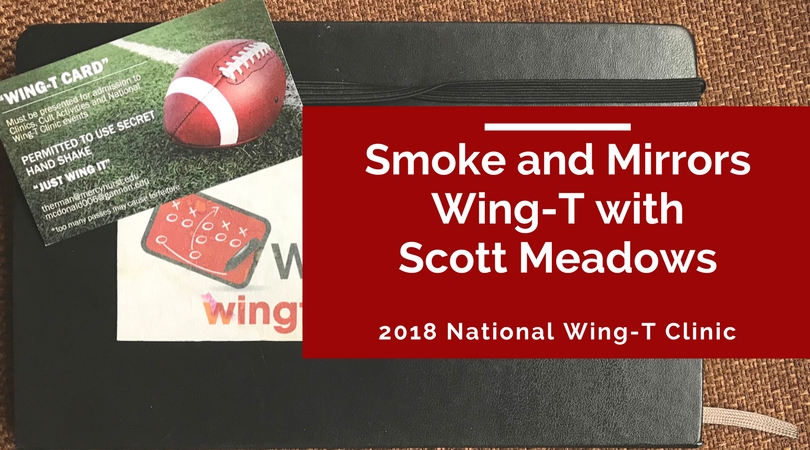 My first session at the 2018 National Wing-T Clinic was Scott Meadows talking about his Smoke and Mirrors Wing-T scheme. Scott retired after the 2016 season but continues to help other coaches and speak at clinics.
"Smoke and Mirrors" is a shotgun based version of the Wing-T that relies on a variety of formations and a running QB. As Scott says:
For many years, traditional Wing-T was what I loved and ran. A few years ago I came into a situation where the school I was at was small and we only had 4 running backs. I was used to 6–8 in the rotation at other schools.

This is what made me move to the shotgun Wing-T. It put another WR in, spread the field and gave us 2 deep at RB, rather than the 1 backup for 3 positions I had before. This really opened up my eyes to what the Wing-T could do.
Why Shotgun Wing-T
Stops defenses from stacking the box and forces them to defend the entire field
The passing game is an immediate threat
The QB is a run threat and the defense must account for him
It softens up linebackers who become more pass aware
His Approach
Coach Meadows uses the same numbering system as the base Wing-T. He flips his line (strong and quick), with splits at 2 feet. The TE splits at 3 feet, and all linemen out from center put their earhole on the center's hip.
The QB heels are at 5 yards. The FB will be the best running back and places his heels at the toes of the QB, straddling the inside leg of the tackle. When he has a wing, he will be tilted at 45 degrees and just "touching" outside hip of nearest lineman. The Z slot if in twins will be spaced at 6 yards, the X at 12 yards.
QB Reads
Pre-snap, the QB makes the following reads:
Is there 1 or 2 high safeties?
Is the Z covered? If not, prepare to throw it now.
For the called run play, he needs to recognize who to read (DE or DT). For example, on buck sweep he will usually read the backside DE.
On buck sweep, he will slide step to play side with the FB while reading backside (ball in belly in front of QB). If he sees the defender turn his hips to chase the sweep, he will keep the ball and run backside.
Formation Basics
Basic Formation Tags by Formation

| X | WB | 2 back | 1 back | Double wing |
| --- | --- | --- | --- | --- |
| Right | Red | Green | Ace Rt | East |
| Left | Blue | Black | Ace Lt | West |
The words have meaning to specific players:
X listens to right and left
Z listens to twins and over
Y listens to flex (nasty split), loose, and trips (over with X)
F listens to orange, black, empty, plus a range of other words
WB listens to flex, ace, trips, green, yellow
Coach Meadows used 115 formations in his final season, with the primary formation being used "Green Twins". I think Green Twins would look like this:

He has 6 key plays that accounted for 73% of his offenses in 2016:
Buck sweep
Trap
23/27 (I think this is boot)
Power
74/76 (weak side belly)
XB
Buck Sweep
Let's dive into his buck sweep rules.
W, Y, and strong tackle: Gap, Down, Backer
C: On, away (there will be no FB fill into the back side A gap)
Strong guard: drop step at 5 o'clock, then downhill going tight off the wing's block and kick out
Quick guard: Pull flat for 2 steps, watch for blitzing LB (on play side) to pick up, then get depth and lead
Quick tackle: Cutoff / TD block unless there's a steal call which would have him block the end man on LOS.
They will tag RPOs onto buck sweep, with a default Bubble call:
X: stalk unless CB is in man coverage which converts the route to a go
Z: run bubble, with a landmark at the outside foot of the X
Y (if spread): run hitch unless CB is 5 yards or less, then convert to a go. For example, if "Red Twins 21 Bubble" the Y would block. If "Loose Red Twins 21 Bubble" the Y runs his route.
Hitch:
X: 5 yard hitch unless CB is in man coverage which converts the route to a go
Z: 5 yard hitch unless CB is in man coverage which converts the route to a go
If there's an A gap threat on buck sweep, the SG can make a call:
Stay: The SG is saying he will sit, with the QG turning into the kick out blocker. They like this versus an under front with a shaded nose
Switch: SG/ST switch places and follow their same rule.
Sandwich: C and ST will double team (sandwich) the nose
Other Buck Sweep Tweaks
Facing a tough DE? Flex the Y and put the WB inside him. This can allow the Y to block down on the DE, perhaps get a double team with the W or allow the W to flare around the Y to go to backer.
Run buck sweep to the QB and use motion counter to the play flow.
Sub in the FB for Q (wildcat) and use an extra blocking back. Just teach the FB how to hand off the ball on jet sweep so you have another play option to break tendencies.
Short Yardage Ideas
Some general tips coach Meadows shared:
Get bigger players into the game
Consider three TEs, put one of them at wing
Shoe to shoe splits
Go unbalanced right or left
4 point stance, go low and bear crawl (I can't do this in my youth league!)
Put two guards in the backfield to block for a wildcat Q (see image below). What does "FA" stand for? Fat ass!