Seahawks Tackling for Youth Football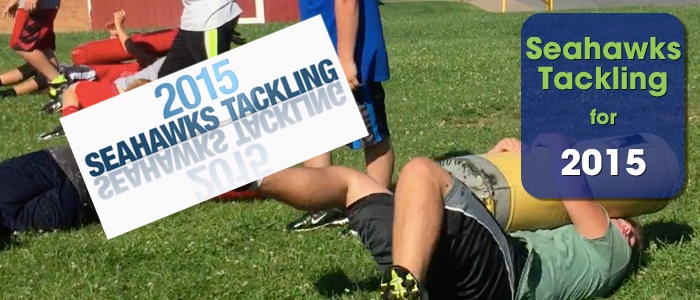 More and more football coaches I know are employing the Seattle Seahawks tackling approach (aka "Hawk Tackle"). As a defensive coordinator for 8th grade players last season I used this teaching approach and drills throughout the season. We were able to start installing the approach without pads, and maintain very controlled levels of contact throughout the season.
I know this is only anecdotal evidence, but this past season was the first one I've had in several years without head injuries. Your mileage may vary, but take a look at the updated Pete Carroll video for 2015 and give it some thought.
Key teaching points include:
Tracking the near hip of the ball carrier
Near foot swoop position (new teaching point for 2015)
Maintain leverage with your own hip position
Hawk tackles are shoulder tackles where we attack the thigh and drive for 5 yards
Hawk lift tackle (new teaching point for 2015) with an off-hand lift, e.g. "left shoulder hit, right hook"
Profile tackling targeting the near pec, which is what we work on most often with our defensive linemen
Drive for 5, running feet through the contact
I had a hard time translating directly from the video into practice preparation (especially preparing the other coaches for consistent teaching), so I created this handy drill guide that you might also find useful.