My Football Scouting Approach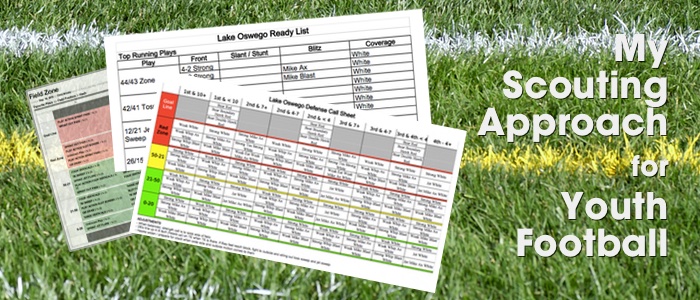 I believe there's a huge opportunity for coaches to gain an advantage for their football team by improving their approach to scouting and game preparation. This is especially true at the youth level where you are more likely able to out-work and out-prepare the opposing coach. After all, most of us are volunteers and just finding the time for practice and game time can be enough of a struggle.
On the "out-work and out-prepare" point, I don't mean you need to spend 10 hours reviewing film. You do need to have an efficient, effective, and repeatable process for preparation though. I'll share what I've used the past few seasons here.
I first wrote about this topic almost six years ago, then updated with new information after reading Steve Belichik's Football Scouting Methods. Those worksheets I created might still be of use, but this is the age of Hudl and I found my workflow dramatically shift over the last two years.
Scouting for Your Defense
While I mostly write about the Wing-T offense here, I think in terms of scouting you have the most to gain by helping your defense get ready for the opposing offense. I have a few objectives when preparing our defense:
Determine down / distance, field zone, and hash tendencies
Discover any personnel tendencies and key players
Diagram plays to run when running scout offense
Determine what their best plays are
Make it is easy as possible to get into the best defensive configuration (front, blitz/stunt, coverage) given the game-time situation
Items 1–3 above have been part of my process for many years, but the biggest improvements I made in the past two seasons where items 4 and 5.
Stop Their Best Plays
I found myself a bit overwhelmed at times when facing some teams that had large playbooks with reasonably good execution (even at the 8th grade). Rather than simply bring out a 20 play scout offense playbook during out group and team defensive period, I decided that it would be much more effective to focus on their best plays. If we can stop what they do best, we gain the initiative. If our defensive fundamentals are sound (run fits, coverage scheme) then we should still be in good shape when they go off script.
Simplify Game Time Defensive Calling
I used to go into a game with some notes on tendencies, but would pretty much wing it when it game to calling the defense in game time. If you've coached for a while this isn't a terrible idea. Watch enough film, coach long enough, you probably have an idea about how to get your defense into the right look in a given situation.
Then I read some of Jeff Floyd's writing on defensive game planning. Jeff's tagline is "You Can Do More!" and we should take it to heart: we can always be improving and learning. There's somebody out there doing whatever you think you are good at in a better way, and they are usually willing to share with you.
Jeff's approach (I'm simplifying here – read his stuff if you want to go into depth) is:
Break down as much relevant film as you can for the opponent. This needs to include down / distance, field position and hash, maybe time of game (e.g., two minute drill), formation, motion, play, play direction. Basically the stuff you can easily track in Hudl. Pro tip: use the Hudl live tagging tool to get ODK, field position, down/distance then go back and fill in the formation, motion, and play specifics. One tip I have with naming formations and plays is to use your own terminology whenever possible. This makes it easier to communicate with your other coaches and with the players.
Run tendency reports on the breakdown you did. From here you can probably identify their top 3–5 running plays and top 3–5 passing plays (the ones they call the most often and have the most success with).
Diagram those plays and prepare a few things for your first defensive practice. This will allow you to get through the early part of your practice week and feel good that your coaches and players are focused on the most important things for the coming game.

Scout offense playbook. Keep these easy to read and follow. Pro tip: use numbers to identify backfield positions and ends. I like to use 1–5 (LE through backs / slots to RE), so that I can then assign scout offense players to a specific number and they will know where to go when looking at the play card.
Your plan to stop each of these plays. What defensive front, blitz / stunt scheme, and coverage will work best? You may want to come up with 2 or 3 ideas for their best plays. This is a great discussion to have during your coach meeting as you prepare for the coming week.
A script for the scout offense period where you identify the scout offense play and situation (if relevant, e.g. "this is 4th and short") and your defensive calls. Number these for easy reference.

During the week you will prepare yourself to effectively call the defense against this opponent. This means going through game situations in your head (actually on paper) and recording what you think the opponent will do, and what your best defensive approach will be in that situation. What are the game situations we care about? Down & distance, and field zone. Specifically here's what I prepare:

Ready List – a list of their best plays and three different defensive configurations with the best chance of stopping them. I go from conservative to riskier calls in my list of three plays. Here's an example.
Play Grid – you can probably produce this directly from Hudl if you have the right reporting features turned on. This is the Down/Distance report which will give play and formation breakdowns. The field zones are broken into 0–20, 21–50, 50–21, Red Zone, and Goal Line.
Call Sheet – So you know what their best plays are and what fronts you will put in to stop them (the Ready List). You also know their tendencies based on field position and down/distance (the Play Grid). You put that together and build a call sheet with two dimensions: down/distance across the top, field position down the left, with the defensive calls you'll make filled in the middle. Here's an example.

During the game, I have the defensive call sheet laminated and hanging off a belt loop. Because I've gone through the game situations in advance and feel like I've put in the best calls on the sheet for the situation, I'm more likely to trust my call and make the call into the defense quickly. Early in the game I'm more likely to go with the first call on the list (conservative), but as the game is going on I might take more risks and move down the list.
Scouting for Your Offense.
I'll give some brief Wing-T specific notes here, but you should also check out the Wing-T Twitter Chat recap from back in May where we discussed this subject.
What kind of front do you expect to see? Be careful here: if the film you have is your opponent's defense vs. the spread, you may be very surprised with what you see in your game. Try to find film from an opponent that runs something at least close to your offense. Generally this means a run-oriented team that utilizes a tight end (power I, veer, single wing). You may or may not be able to scheme specifically for a front, but you can focus your offensive preparation for the line and backfield blocking accordingly.
What personnel weaknesses do you see? Maybe they have a stud DE that always goes with the TE, but the weak side DE isn't so hot. If you can reach / log this player easily, a healthy dose of weak-side jet sweep or ISO sweep might be in order. Or maybe you run some double TE looks to see if the stud DE goes to wide side of field, then run your regular stuff away from him.
How do the linebackers react to motion? Do they automatically blitz on jet motion away? That might might leave them very vulnerable to a tackle trap or counter play.
Consider scripting your early game play calling to probe and sniff out the defense. This is a great way to validate pre-game hypotheses.