Mark Helfrich at the Oregon Ducks Football Clinic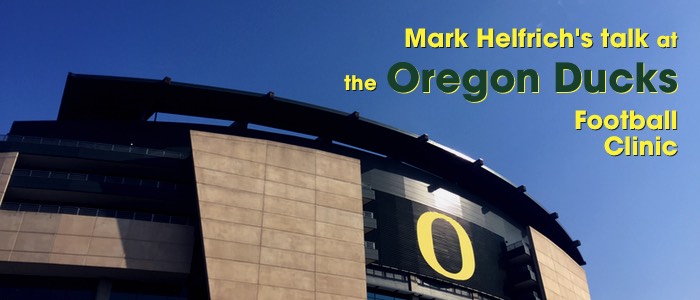 Mark Helfrich was the first speaker at the Oregon Football Coaches Clinic and I thought you might enjoy a summary of his talking points. Coach Helfrich was very engaging and genuine, not afraid to make fun of himself, and always very appreciating and praising of his staff.
He made a joke that step 1 for building a national contender is to get a billionaire behind the program. Additionally, as Coach Helfrich went into key points of emphasis for football coaches he commented that Marcus Mariota personifies everything they strive for in the Oregon football program.
Coach Helfrich's points of emphasis:
Coach with "Do", not "Don't". Use positive guidance and tell players what to do, specifically, and briefly. Anybody in the world can be negative; as a coach you should be in the solution business.
Coach with questions, preferably by name. For example, ask your quarterback after a poor read "what did you see in the secondary, Marcus?" Praise and question by name, criticize by position or number. For example: "great reach block, Joe" and "left tackle, your first step should be with your right foot, not your left". It should be comfortable for kids to not know, so create an environment where questions are easy to ask.
Coach with technology… if it makes sense. You should favor quality over quantity, as it is easy to be overwhelmed with film and other inputs. Use 2–3 great examples rather than 10 mediocre ones.
Eyes – watch these.
What you hear, you forget. What you see, you remember. What you do, sticks.
Effort, Run, and Finish. Especially true for special teams. Everything has a finish.
Celebrate the guys that "make the play" but didn't have the ball.
Coach Helfrich then spent the next 30 minutes or so going through film and walking through more talking points. I'll summarize:
They strive to learn from others' mistakes, not just their own. They will scour for game situations they haven't seen before, and find a way to incorporate those into a practice. He showed film from a high school game (from the Portland metro area) of a blocked field goal where everyone thought the play was over. Do your players know the rules when this situation happens? You can talk to them about it, but Coach Helfrich crafts drills or scenarios to reinforce. As coaches, we often assume our players understand the basic rules of the game but many do not. In fact, if you coach in youth or high school you probably agree with me that most coaches don't understand the rules of the game they are coaching as thoroughly as they should. I remember this game from Utah last season where a QB must have thought the clock rules were like basketball. You tell the QB "just run out the clock by running back towards our end zone" – does he really understand what you are asking him to do?
On a similar note, Coach Helfrich talked about how they coach players to hand the ball to the official after scoring a touchdown. Not only does this help prevent sportsmanship lapses, it helps ensure the player avoids goofs like this. Ironically, Oregon's Byron Marshall did almost exactly the same thing during the National Championship game.
Ball security is huge for Coach Helfrich, and they stress that you should never be able to see the ball from end zone film behind the player: keep it high and tight.
"Even feet gets you beat": there must be be an aim point when defending, with your feet sprinting through the tackle.
Oregon does their pre-game walk-through for a Saturday game on Thursday, while on Friday they do a full speed fast pre-game routine.