Don Smoyln's Traditional Wing-T Game Planning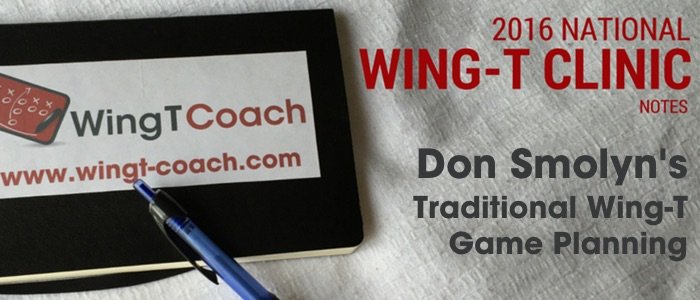 Don Smolyn is the head coach at Lenape Valley Regional High School (Stanhope, NJ), and he's been doing it possibly longer than you've been an adult (or maybe even been alive). He gave one of the more thought provoking talks at the National Wing-T Clinic and it wasn't even about the Wing-T.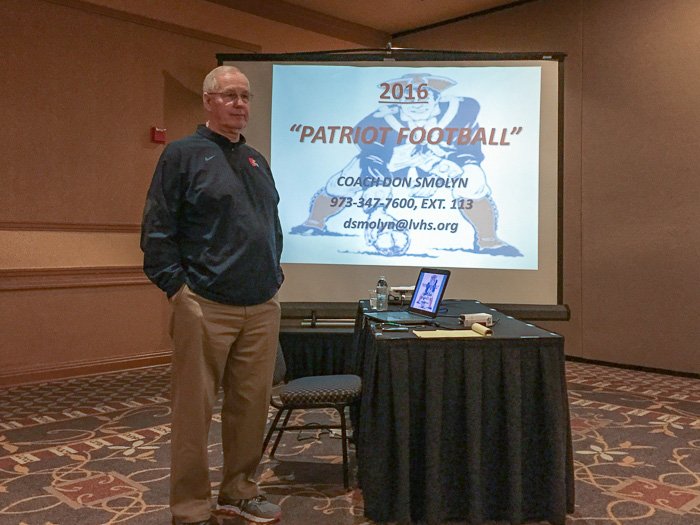 General Coaching Thoughts
Coach Smolyn started with some general commentary about coaching and preparation. Some of his key points included:
As a coach, you have a responsibility to bring your A game. This means being prepared to work harder than your players do.
His staff doesn't leave on Friday night until their film is uploaded to Hudl.
By Saturday noon, defensive coaches have identified the 12-15 best plays for their next opponent and have sent out the script and playlist.
Don then made a very interesting point: average touchdown drives are six plays (he threw out one play drives for this analysis), usually with one big play of 20 or more yards. Each of these drives also average one short yardage play (e.g., goal line play or a 3rd and 1). This is important to Coach Smolyn as he believes that if they can be perfect for 6 reps, they can greatly increase their chances of scoring on each drive.
Some other game statistics he pointed out (this is for high school of course, youth games would likely have 20-25% fewer):
21 special teams plays
50 offensive plays
hard to predict defense play count as it is so dependent on opponent and their tempo / huddle approach
10 "normal" yardage plays
7 critical downs, e.g. 3rd and 4-6 yards
4 short yardage plays per game
60% of calls in a game are 1st down or normal yardage plays
His conclusion from this data: he can no longer conduct practices where the ball is spotted on the same spot on the field play after play.
Practice Approach
He usually runs practices at 3 hours, and never goes full live in practice. Coach Smolyn runs double TE about 85% of the time, and has a very limited number of plays (small playbook). But… he has numerous blocking variations on those base plays. One of his favorite base plays is the traditional Power play, and I'll cover that in a future article.
He compels coaches to chart what they run, track effectiveness, and use it to inform what you call in games. He puts the plays in a spreadsheet then tracks how many times the play gained four yards or achieved a 1st down or touchdown. Statistically this is much more informative than tracking average yards gained per play because it effectively throws out big gains. A five yard Power is just as effective as a 40 yard counter in this analysis. So you count up the total times the play was effective then divide by the number of times the play was called, and that is your effectiveness. He strives for 60% or higher and with his best plays will exceed 70%.
Finally, don't waste time on plays you won't run. Make a play earns its way into your playbook and practice time.
Thirteen Situations
This part of the talk could probably be an entire article by itself. It was eye opening to me in sort of a hand-smacking-forehead way. Coach Smolyn recommends that coaches use the preseason to take the team onto the field and walk them through 13 distinct game situations. Explain the issues with each and incorporate the, directly into your practice routine. Here are the 13 situations:
2 minute offense – When does this happen? What will stop the clock? What do we need to achieve?
4 minute offense – What about when we need just one more first down to win the game, running the clock out? What does everyone need to know?
Last play of game (to win it) – What is different about being on goal line, 3-7 yard line, 10 yard line, 25 yard line, and a desperation Hail Mary situation? Practice all of these.
Goal line and short yardage – Practice vs man-to-man and zone coverage, 4th down and true goal line. This includes 2 point conversions, and Don thinks you should have at least two plays installed for this.
First down – This is a "normal" play, but you also want to practice for the big play on first down, especially after a turnover.
Gimmick or trick play – Have one ready each game week and think about when you will call it. You probably want tot have 5-6 total plays, and for a Wing-T coach these should probably be trick plays off your best run plays.
1st down inside your own 3 yard line (coming out) – This is where ball security is especially important, and you want to instill a mindset of "live to fight another day".
Man coverage situations – Work on this in 7x7 and build a package of pass plays designed to beat man coverage.
Cover 2 beaters – Have 4-5 plays designed to beat Cover 2, such as waggle at 5 yards. Find ways to attack the holes in this coverage.
Screens – Have 3-4 plays, one of the game ready each week, so that you have something to go to if needed (this guidance is for teams that don't have screens as a core part of their offense). His examples were waggle screen to the HB and keep pass screen to the TE.
Long yardage plays - What are your pass plays designed for 3rd and 8, 3rd and 10, 3rd and 12+? You should also have 1-2 runs to call in these situations.
Normal yardage – This is what you'll work on the most.
Overtime – The coaches and players should know the rules for their league, and practice specific situations. What is your 3rd overtime rule? What if you have a 4th and 4 in your first possession and are on the 12 yard line? Will you kick a FG or go for it? How will you handle the coin toss?
The idea here is you explicitly put some of these 13 situations into each practice plan. Raise the football IQ of your team by briefly talking through the situation and what the team goal will be, and how the rules might impact certain decisions or behaviors.
Three Defenses
How do you prepare your team to be successful against a variety of defensive fronts in preseason, when you might not even know what to expect from your first opponent? Coach Smolyn runs "three defenses" on Mondays, and it looks like this:
Set up three different defensive spacings with bags, cans, shields, whatever at the 10, 25, and 40 yard line
Each one should be set up with a different 6-8 man front, though he suggests one should always be 3-3 stack.
He will run two offenses in pipeline fashion through these three defenses, wrapping around and repeating.
Think of this as plays-on-air, but you make it more concrete for the offense by having specific defenders they need to react to and block.
Off Season Prep for Preseason
Don recommends that you come up with a four week preseason calendar on the computer, then plug in everything you need to win the first game. This should include those 13 situations mentioned previously. Things won't always go well but stick with your plans and grind through it. During preseason you must maintain focus and intensity, and during the season you can't just go through the motions. Your first five practices should be planned out in detail by June.
Every 4th day schedule in goal line, short yardage, 2 point plays.
Schedule talks that you'll be giving to the players so it is not random and ad-hoc. This could include talks on drugs, social media, leadership, etc.
Map out your special teams installation, and keep your best players on special teams.
Practice Approach
Coach Smolyn applies modern thinking to his practice approach, with rapid reps and as little standing around as possible. For example, if working on an installation with the offensive line, the o-line coach will stand in the middle with two different lines facing him and will bird dog and coach from there.
They script everything, and the script should mirror your game or like you might script your six best plays. This past year they went away from dynamic warm-ups and calisthenics and started with a team takeoff period running 10 plays on air. This coming season they will change it to "six perfect plays".
Let's talk more about how he scripts plays in practice:
The scripts go on practice schedule and QB wrist bands.
Pass plays vs. air will have 12-18 plays and the script tells the QB where to throw the ball. They aren't working coverage here so it is more important for the QB to get used to throwing to different options and for each player to get involved catching the ball.
Pass plays vs. rush and coverage will have 10-12 plays without a designated receiver.
Team offense will have 25 plays, along with a scripted defense
Defense vs. scout offense run will have 12-15 plays
Defense skelly vs. pass will have 12-15 plays
The script for each practices will have each of these scripts, plus on the reverse side will have the 13 situations with play numbers for each.
---
Whew, this was a dense session and I took a ton of notes. I love this framework for preseason preparation. If you ever feel a lack of inspiration for mixing it up at practice, you should find plenty of ideas here you can apply.