7 Things Youth Football Coaches Should Do in the Offseason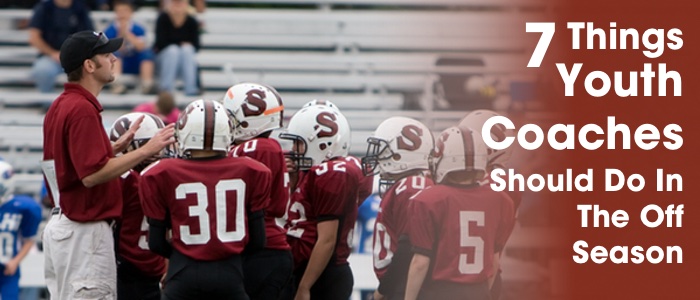 In most areas, coaching youth football is different than coaching at the high school level. Most of us don't get a spring or summer coaching season, which in my case is by design: I prefer not to have the year-round coaching routine required for most high school coaches these days.
That doesn't mean I'm not fully engaged during the offseason. Every week I'm doing something to get better. Early in the year this usually means research and book reading. By late spring I'm deep into planning for the coming season. What will our installation schedule look like? What defense will I run? How will we approach the initial non-contact conditioning and evaluation week?
Here are suggestions for what you can do as a youth football coach during the off season to put yourself in a position to be successful:
Decide on and write down your personal goals and philosophy for the coming season. Think about how you will interact with your players' parents. Create a team handbook that you can share with players and parents at the start of the season.
Prepare your plans for evaluating players for position fit. On both sides of the ball. If you have the luxury of fielding a team with 25 or more players, think about how to platoon some of your bottom half players for more success.


For example, we often have 4 or 5 undersized, slower players that can usually only fit in at running back on the offensive side of the ball. Maybe wide receiver. They will usually train with the running backs on offense, but be in a 3rd or 4th spot on the depth chart. Some of this group will therefore be assigned to defense as their primary position, usually on the defensive line.

Decide on your first series to install on offense, and prepare a detailed plan for execution. This year, for me, it will be the Buck Series (contrary to some of my own advice). We are trying to align closely with the high school most of our kids feed into, and that means featuring the Buck Series. And by detailed plan, I think you should come into your practice season with at least the first week of practices planned out in detail. That time of year is crazy, you will be exhausted from the change in pace and stress of coaching, and having your plan ready will allow you to focus on any surprises that come up along the way.
Prepare a high level plan for your entire pre-season practice schedule. I'm using Don Smolyn's "Thirteen Situations" as a framework. In addition to specific installation plans for our go-to series we want to go into our first game with, I can ensure we incorporate game situations to prepare the players. Here is an example of such a plan - my current working August installation plan.
Decide on your special teams approach. As a youth coach there's no obligation to prepare kids for what the "real world" is like when it comes to punting, kick off, kick return, field goals, and PATs. There are high school coaches who never punt, after all. You have limited practice time, and likely limited skill players that can punt or kick field goals effectively. Consider making practice and game plans that don't include these elements. Likewise, don't bother preparing or practicing complex kick return strategies if you are unlikely to see kicks beyond the first or second line during the season.
Plan your defensive scheme and installation plan. Keep things simple and allow your players to play fast. I'm still in the "deciding" mode on what I plan to install this year - it will be either a 4–2–5 or a 46 style defense. One change I plan to make this season is to focus on man coverage from the start, and only introduce zone after 2 weeks. This is partly because if I run a 46 I expect to be in man-free coverage most of the time, but primarily I want to stress the importance of good coverage technique.
Establish working agreements with your coaching staff. A working agreement is a shared understanding of the role that each member of the staff will take on, how the staff will engage in debate and discussion, and how specific decisions will be made. I doubt you have a staff of 12, so the head coach is probably also either the offensive or defensive coordinator. The main assistant likely has the other coordinating role. These two coaches must be perfectly aligned and understand where decision making starts and ends. There will be the inevitable disagreement about some issue on the practice field – will coaches "have it out" on the field in front of the players, or will they agree to suck it up and discuss after practice? Work these things out before your first practice.