2014 Season Wrap-Up for Youth Football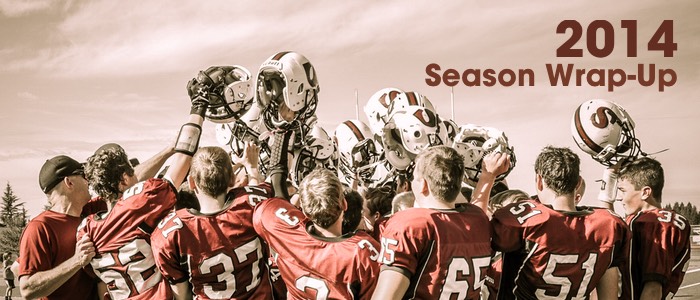 I wrote a post back in the late summer of 2014 about the start of youth football. I promised a follow-up and am way overdue.
Go read that article if you haven't - don't worry, I'll wait here for you.
You can certainly see that 2013 was a season to forget, and we wanted to make 2014 a season to remember. I called out a few goals we had as a coaching staff. I'll summarize here and give some comments:
We've recommitted ourselves to making this a great team and football experience for the players. Personally I'm smiling more, yelling less, and finding more ways to connect personally with each player. I'm getting to know the parents on a more personal level … I've enlisted three different dads to help with some fabrication and production work to support us.
I think we had an outstanding year in this regard. Personally I felt like I really connected with the offensive line and the linebackers on defense. It was a great group of kids and it is easy to see why: the parents were phenomenal. We consistently had a few parents hanging around at practice this year, but it wasn't the arms-crossed-I'm-evaluating-your-practice kind of hanging around. Instead we had helpful parents that were more than willing to step in and help when we needed it but stayed within their boundaries.
Additionally, throughout the season we had both players and parents thanking the coaches for our time and for coaching. It felt genuine and it meant so much to us.
Secondarily, we want to focus on the bottom third of our kids and help them over perform. Sherwood is one of the few programs in all of greater Portland that will field two 8th grade teams this year, and as a result we will face several other teams that draw from larger communities that have a single team… Over achievement this year probably means a 5–3 season.
In wins and losses and play-time for players, I think we definitely over-achieved this season. We finished the regular season 5–3 and beat two teams with just a single 8th grade team (remember our 8th grade team was essentially a split squad) and won every game we played against other two-team associations. While we lost in our playoff game (against the #1 team that had destroyed us earlier in the season), we were competitive throughout the game and down by just 6 points mid-way through the second half.
We kept all the kids involved in the games, with ten players participating in scoring plays (TDs or PATs) and every eligible player that could carry the ball getting at least three rushes. One of the smallest and slowest players on the team was our starting QB and we found ways to make him successful. He also kept his poise and continually worked on footwork and precision in passing and handing off.
This is almost certainly my last year coaching youth football in Sherwood, but I'm nowhere near done coaching. This coming season I'll be helping out the high school staff with behind-the-scenes work (mostly film breakdown and analysis support) as I'll be away from Oregon for most of the football season.