Why run the Wing-T in youth football?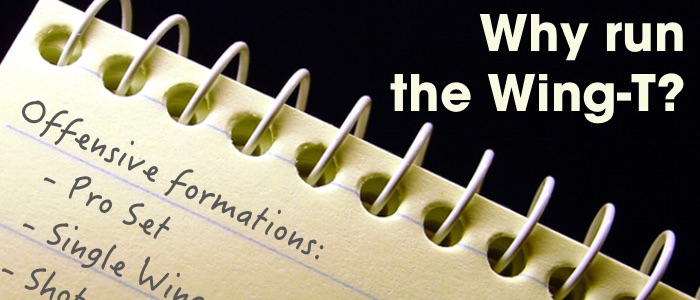 I may not be the best person to answer this question. After all, this is the only offense I've coached. But I am a student of football and as a defensive coordinator for nine years I've had to dissect, understand, and prepare for a wide range of offenses. I realize that it is one thing to install a scout offense for one week of practice and quite another to install it for a season. Still, I've seen enough of the "other side" to know that there's something special about the Wing-T that makes it just about perfect for youth football.
There's a saying in chess that "Every pawn is a potential queen", which is another way of saying that even the seemingly most unimportant piece on the board can make the difference between winning and losing. In youth football, the game (and the coaching) is often just about the skill players — a fast running back might be able to get the edge on a stretch play even with poor blocking, or a more mature and strong 11 year old might be able to run through tackles of smaller defenders. The Wing-T on the other hand, is like a well choreographed dance that involves every player on the offense. It allows smaller offensive linemen to gain the edge through angle blocks and traps. It allows less skilled running backs to contribute because of good ball fakes and series-based play calling. It can set up a less athletic quarterback for passing success by setting up high percentage opportunities in the play-action passing game.
They do keep score in football, and preparing a team for success is part of your role as football coach. Unless the Wing-T is popular in your area I would bet the opposing defensive coordinators panic just a little even thinking about preparing for a well oiled Wing-T machine. It couldn't be more different from the all-too-common spread offense and featured-back power I offenses you see in youth football these days.
In summary, here's why you should run the Wing-T:
Every player has an important role, so it will keep the entire team engaged throughout the season. Engagement is what makes it fun for the kids, and what will get them to come back and play next year. That should be a primary goal as a youth coach.
With a very small number of plays you can install a series or two that offer ball carrying and receiving options for every eligible player.
You can run an effective offensive line with undersized players if they are smart and disciplined.
If you focus on the little things (fakes, good footwork, timing, angle blocking, etc.) you can score a lot of points and win a lot of games