National Wing-T Clinic 2016 Registration is Open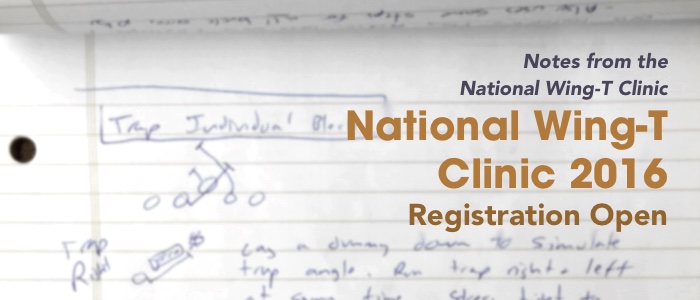 The announcement for the 2016 National Wing-T Clinic just went up. It will be held in Pittsburgh PA on Friday and Saturday, January 29–30.
I attended this clinic for the first time earlier this year and attempted to take copious notes to share with you all. I'll do the same again this time around and will try to visit some different sessions. Let me know if you have any special requests.
If you are thinking about attending for the first time, here are some tips:
Even though you might think the clinic is promoted as a high school and college event, quite a few youth and middle school coaches attend. You won't be an outsider if you are a youth coach at this clinic!
Book the hotel early, as that is the key gating factor in attending and enjoying yourself.
Expect draft light beer to be served from the opening bell. Bummer, I know.
Bring a big pad of paper for taking notes and making diagrams. I'm a tech nerd but I wouldn't dream of using my laptop or iPad to capture notes from this clinic.
Ask questions but don't be "that guy" who dominates the conversation or who seems more interested in showing off his knowledge than learning new concepts.
Be humble and don't be afraid of asking stupid questions. I've been coaching for a long time but I still see terminology come up that I don't understand. The Wing-T religion has its own language, so don't hesitate to ask for translation.
Take advantage of the social hours during breaks and after the first night. This is where you will have the chance to swap stories and ideas with other coaches. If you will be there and want to meet up to chat just drop me a line.
I'm thinking about putting together a meetup for my readers on Saturday, perhaps over a sandwich and beer at the nearby Primanti Bros. I'll share specifics in my newsletter and on Twitter in January.