Breaking Down the Wing-T Fullback Trap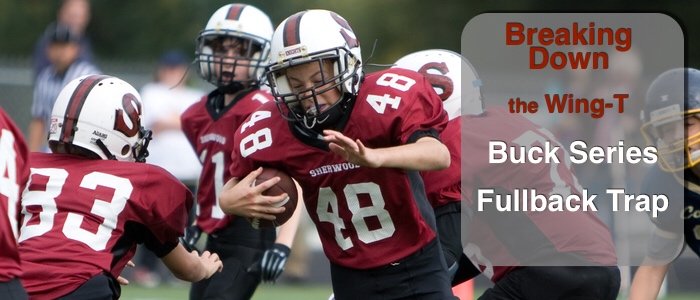 The fullback trap play, part of the Wing-T Buck Series, is an essential core play for any Wing-T team. It is usually one of the first six plays I install, right after putting in the Belly series.
This play is also known as "guard trap", with quite a few variations on how it is run. Let's start with the basics and diagram it out.

And here it is to the left side:

And here is some film showing Left 31 Trap.
The Fullback Trap is the primary complement to the Buck Sweep. The backfield motion is nearly identical, though the QB must rotate further on his left foot so that he can step off line and make room for the FB diving straight ahead on line. Other than stepping off line, the QB continues his 3-step progression with his back to the LOS until he begins the fake boot. The FB steps straight forward on line, raises his right arm to take the hand-off, then bends to playside to cut inside the trap block.
The C and playside guard will down block. The backside guard will step over behind the C and cross block across the playside guard. The playside tackle will rip through any defensive lineman heads up or inside and get to the first ILB he sees towards the middle. The TE will reach in to C gap but try to get to the second level and seal off the ILB on the playside.
You might just want the TE to go straight to second level and take the first backer he finds to his inside.
Alternative Blocking Schemes
Back in August I ran a Wing-T Twitter Chat on influence blocking, and trap gut came up quite a bit. I won't revisit those notes here, but I'll post the play diagram for reference.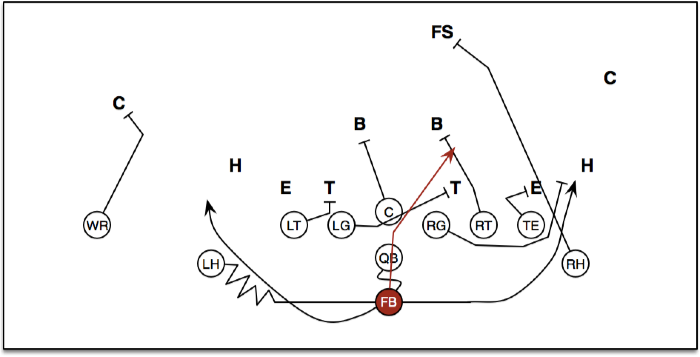 Some defensive coaches focus on "read the guards!" to help key their linebackers. If you are seeing linebackers scrape too fast on the sweep, following the pulling guards, you might influence them a lot easier than blocking them.